| | | |
| --- | --- | --- |
| " | This family needs a dumbass-ectomy. | " |
| | | |
| --- | --- | --- |
| " | You're never alone when you have books. | " |
Alexandra Anastasia "Alex" Dunphy is the middle child of Claire and Phil Dunphy. Alex is evidently the most clever and intelligent of Claire and Phil's children. She is the older sister to her goofy brother, Luke and the younger sister to her shallow sister, Haley.
Biography
Before the show
Alex was conceived in a hotel room in Disneyland ("The Graduates"). She was born on January 17, 1997. Her older sister Haley is three years older and her brother Luke is one year younger than Alex. Claire says that during her pregnancy with Alex, she had a "pregnancy brain", implying that the brainy Alex was strongly competing with her for resources ("When a Tree Falls"). She had a poem published in Highlights Magazine when she was five years old ("Patriot Games").
Personality
Although Alex is younger than most of the family, she is arguably the most intelligent and well-read member, even more than Manny and her lawyer uncle, Mitchell ("Other People's Children"). Being an overachiever, she tends to address people with sarcasm and condescension, although most of the time nobody gets her humor. She is also shown to be competitive just like her mother, Claire, which she admits is because she is not used to not coming in first.
Having raised by inexperienced parents, Alex learned to be extremely self-reliant at a young age that Phil once compared her to a self-cleaning oven ("Under Pressure"). Due to her abilities, her parents also tend to pay less attention to her concerns in favor of her less capable siblings. Alex often breaks the fourth wall when her family discusses ridiculous ideas and she feels like the odd ball. In "Grill, Interrupted", her grandfather Jay confides to Alex that the family needs a leader and one day he will not be around to do it anymore, implying that in the future, she will the the one to keep the family in check because she is the only one who can do it.
She enjoys messing her family when they are rude to her, which is fairly often, taking advantage of their and inferior intellect by fooling them into believing unrealistic things. At one time she convinced Haley that she could charge electronics by rubbing the battery on her head and Luke that he could do the same by holding it in his mouth ("En Garde"). As much as she enjoys torturing her brother and sister, she always seems to have their backs, as in "Undeck the Halls" when she confesses to smoking, even though she didn't do anything, to bring back Christmas for them or in "Games People Play", when Alex says she would have tutored Luke if she had known he was failing Pre-Algebra.
Alex is almost always bickering with her sister Haley, usually regarding her appearance. According to Haley, Alex has no fashion sense, and finds it difficult to make friends at school. It is shown in several occasions, that she does indeed care for her reputation, like when she refuses to be seen with her mother dropping her off to meet with her friends ("Benched"), and when she accepts advice from Haley about how to be friends with a popular girl at school ("Strangers on a Treadmill").
Alex is also shown to yearn for her mother's approval through academic awards ("Integrity"). In high school, she is part of the debate team and the French club ("Rash Decisions"), practices lacrosse, and plays the cello and sings the backup vocals of her band, Electric Light Dorkestra ("Best Men"). She later admits to Haley that she eventually hated playing the cello but continued to play it because she is not used to quitting ("Someone to Watch Over Lily").
Alex was also implied to be multilingual, being part of the French club and speaking some form of Chinese in "Planes, Trains and Cars". She says that she also know Elvish. She is sensitive to the sight of blood faints because of it ("Arrested", "Heart Broken").
Education
Extremely smart and studious, Alex is shown to be a hard-working student, being awarded more than any other student in the school and often seen reading her books at home or even on vacations. During high school, she took advanced classes that she once became classmates with Haley. She graduated valedictorian from junior high ("See You Next Fall") and co-valedictorian from senior high ("Patriot Games") with Sanjay. After graduation, she applies to several universities including Princeton, Harvard, MIT, eventually choosing Caltech.
When Alex does not get into Harvard University, she breaks down and when confronted by Haley, she admits feeling indignant about how she had done perfectly her entire life only to be rejected.
She is currently a student at Caltech, majoring in biochemistry.
Alex's Fans
In "After the Fire", it is revealed that Alex has her own fan base, similar to her popular sister, though hers is composed of nerds like her. Alex tells Haley that someday "your fans are going to work for my fans."
Season Summaries
Relationships
Family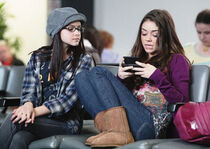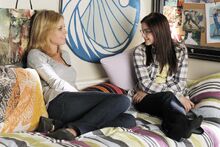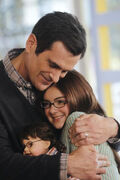 Love Interests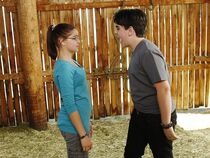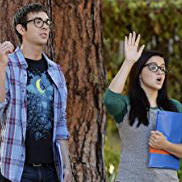 Alec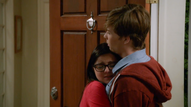 Teddy Keys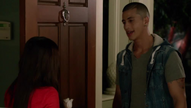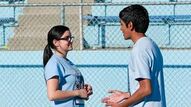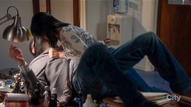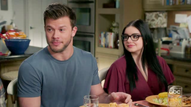 Trivia
Ariel Winter is one year younger than the character she portrays.
Alex plays the cello and sung in a band called Electric Light Dorkestra ("Best Men").
From "Pilot" until "Suddenly, Last Summer", Alex wore small framed glasses and then in "First Days" onwards, Alex switched to bigger glasses. Both are black square plastic frames, which seems to be her preferred style; except on occasion and in newer promo attires at this time on. Also at times she can be seen without her glasses.

She also wears contacts (only) on rare occasional attires other than eyeglasses.

She played lacrosse. (Source needed)
It is implied that she leans democratically, as in ("Under Pressure") she wonders if Hillary is going to run for president or not and states frustration over it, although she understands the pressure Hillary must be facing.
Blue index cards help her study better

("

Under Pressure

").

When she was little she won a spelling bee in school. The winning word was "responsibility". Her parents didn't even know she was in the spelling bee

("

Under Pressure

").

She told a therapist in

"

Under Pressure

" that her family "doesn't get her", and it makes her feel kind of alone.

In

"

Under Pressure

" it is noted she takes AP Bio, Advanced Lit., and AP History.

She began drinking recreationally at age 16, sometime around the events of "A Hard Jay's Night"

.

She lost her virginity at age 17, as she accidentally reveals to her father in "Double Click"

.

Like her brother and her sister, Alex has an allergy. She is allergic to hazels as it's specified in Ringmaster Keifth.
Alex is the only Dunphy kid not to attend Community College.
Quotes
Phil: We're gonna have to settle this dispute in court - the Food Court. The honorable Judge Cinnabon presiding.
Haley: The food court? That place smells like the inside of Luke's bicycle helmet.
Alex: I like the food court.
Lily: Me too!
Phil: Don't worry, girls. We won't deprive ourselves just 'cause Haley's aversion to...
Alex: [laughs, then stops herself] Oh. Oh, Haley's aversion. I thought you said... never mind.
— From "Virgin Territory"
Haley: [complaining to Claire about being in the same class with Alex] Her hand's in the air, like, every five seconds, and she actually reminded Mr. Waters to assign homework. The class loved that. Do you know how embarrassed I was?
Alex: Not as embarrassed as I was when she said eight was a prime number.
— From "Phil on Wire"
Phil: [to Alex] Can I ask you a question?
Alex: What?
Phil: Do you think it's possible your brother snuck a girl in here last night?
Alex: [with extreme sarcasm] I wouldn't be too surprised.
Phil: So you think he's... they...
Alex: Oh, come on, Dad, don't be so naive. We were all seventeen once, it's not like we all...
Phil: [mouth agape]
Alex: [raises her index finger, backs away slowly]
— From "Double Click"
Appearances
Please go to here for color coding.
Gallery