Familia Moderna is a Chilean TV show remake of Modern Family. It is broadcast on Chile's private tv station MEGA.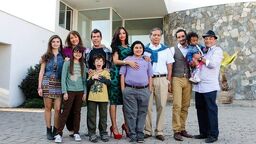 http://images.goodfood.com.au/2014/06/30/5556234/1404093393210.jpg-620x349.jpg
Characters and actors
Main
Miscellaneous/Recurring
Gato, played by Christian Sève.
Dylan's counterpart
Juan Pablo Letelier, played by Max Corvalan.
Frank Dunphy's counterpart
Teté de Gallo, played by María Izquierdo.
DeDe Pritchett's counterpart
Luis García, played by Luis Uribe.
Javier Delgado's counterpart
Olga, played by Soledad Pérez.
Barb Tucker's counterpart
Teresa Prieto, played by Jenny Cavallo.
No counterpart from the original series
Differences
As same-sex adoption is illegal in Chile, Gustavo and Fernando instead take Anto (short for Antonia) in with them while her mother has left to travel abroad. This also explains why Anto's mother has no original character counterpart in the original series, as in the United States, same-sex adoption is allowed.
As characters, like Gloria aren't exactly uncommon in Latin America, the series instead chose a woman from a lower social class.
Community content is available under
CC-BY-SA
unless otherwise noted.