I'm Going to Miss This is the sixteenth episode from Season 11 of Modern Family, it aired on April 1, 2020.
Plot Summary
Mitchell is having a hard time letting go of his old life and Gloria steps in to help him say goodbye. Meanwhile, Haley, Luke and Alex decide to throw a party at the Dunphy house when Claire and Phil leave for a trip, and Dylan's mom takes the twins for the night.[1]
Episode Description
Mitch and Cam have bought a new house, and although it is larger and has many new amenities, Mitch is finding it hard to say goodbye to the old apartment. Gloria single-handedly moves all the furniture out of the apartment to the removals van (after she causes the crew to walk off the job with her insults) and encourages Mitch to say a proper goodbye to the place. Mitch does so by playing the divas on his phone and dancing along as he used to do when he lived alone, only to be interrupted by Cam and Lily with big news; the baby they're adopting has been born two weeks early. The two immediately start to panic, as everything they need for the new baby is either packed away or not bought yet. As Gloria tries to find the baby car seat, Mitch and Cam enter the hospital full of nerves and wondering if they're doing the right thing. Lily reminds them they always get nervous but manage to pull themselves together when it's important, just as they arrive at the window where they get their first glimpse of the baby, a boy. Mitch, Cam and Lily get emotional at the sight of their new son and brother and hug.
Jay discovers Manny is a member of a wine club. Delighted he's finally found something in common with him, he offers to share some of his wine with him. The two enjoy themselves, but soon descend into an argument over whose knowledge of wine is greater and they decide to have a blind taste-off, best of five. When the score is two each and they get to the final bottle, the two agree they don't need to know who won and enjoyed themselves before they let their rivalry interfere. They agree to get together and drink wine once a month when Manny gets back from his around the world trip. However Manny can't resist checking who won, and is furious to see Jay did. Jay celebrates his victory and seeing Manny's competitive streak.
When Phil and Claire go away for a few days and Dylan's mom looks after the twins, the kids decide to throw a party. Naturally things go wrong, and while they're able to repair (or at least hide) the damage to the house one of the party guests, Doug, slips on Alex's spilled drinks and threatens to sue her unless she agrees to do jobs for him while a party guest's snake lays eyes in the fireplace. While Luke manages to get most of the eggs to a pet shop, one of them is left behind.
The day after Phil and Claire get back, they throw an Easter party for the children of the neighbourhood but find themselves sitting with various groups of grandparents and start to feel old. It turns out the final snake egg was included among the painted eggs the children are hunting out the back, and when Phil is told he rushes around trying to find it before it hatches. He manages to grab it from a child and hide it up his sleeve only for it to hatch and crawl along his body, leaving him struggling to maintain his composure. Claire finds out that Doug is blackmailing Alex and sorts him out herself by managing to manipulate him into appearing to push her over. When she threatens to sue, Doug leaves Alex alone. Phil and Claire accept the fact they're getting older, but know that while they now have grandkids their parenting skills are still needed.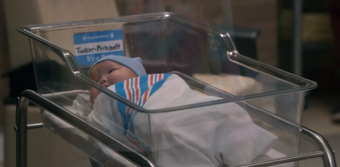 Main Cast
(The characters struck out do not appear in this episode)
Haley Dunphy (Haley Marshall)
Luke Dunphy
Mitchell Pritchett
Cameron Tucker
Lily-Tucker Pritchett
Dylan Marshall
Guest Starring
Jon Daly as Doug
Tom Fitzpatrick as Jim
Collin Lee Turner as Snake Dude
Marcy Goldman as Meemaw
Hilda Boulware as Mimsy
Oliver Strang as Boy
Cinai Léonard as Girl 1
Annabelle Resnick as Girl 2
Mike Ostroski as Mower
Sarah Khasrovi as Mother
Samuel Davis as Father
Trivia
The Jay/Manny plot was originally for episode Snapped
Easter is finally celebrated in this episode.
Continuity
Cultural references
Cam mentions Elton John
Mitch mimics Dirty Dancing
Gloria speaks in trucker slang ("a smokey set up a bear trap and I had to back off the hammer" = "a police officer set up a speed trap and I had to slow down")
Reviews
The A.V. Club gave it a "B": Cam and Mitchell are anchoring this final season. Their journey, from considering a move back to Cam's hometown to adopting a new baby, has provided this final season with its only moving arc. [...] It's touching and sickly sweet, and affirms that while the rest of the show seems to be stuck with meaningless storylines, Cam and Mitchell are getting an appropriate send-off.
References
Gallery