I'm Going to Miss This is the sixteenth episode from Season 11 of Modern Family, it will air on April 1, 2020.
Plot Summary
Mitchell is having a hard time letting go of his old life and Gloria steps in to help him say goodbye. Meanwhile, Haley, Luke and Alex decide to throw a party at the Dunphy house when Claire and Phil leave for a trip, and Dylan's mom takes the twins for the night.[1]
Episode Description
As Gloria shows them their new house, Mitchell and Cameron have hard time to adjust themselves. In order to cure Mitchell, Gloria tells him that he has to say goodbye to their old place. He does, but Cam and Lilly finally come back saying that their son has finally arrived and they settle with their kid.
Meanwhile, Alex, Luke and Haley organized a party because they were alone but it backfired because Haley smashed the piano, Alex spilled her drink, which costed a man named Doug a broken leg and a way in order to manipulate her, and Luke had to find snake eggs but forgot one. Since they also organize a Easter Party for the twins, Phil and Claire have a bad time, because they are the youngest grandparents.
Phil disguises himself in order to find the missing egg and finally manages to find it, but he has to bear the fact that an old man wants to take a picture of his grandson and him. Meanwhile, Claire feigns a wrist injury in order to manipulate Doug.
In a third plot, Jay and Manny decide to compete in a wine degustation, helped by Joe. They have a good time until a competition begins between them.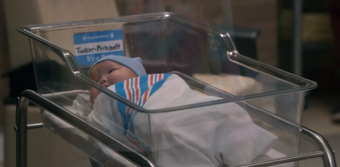 Main Cast
(The characters struck out do not appear in this episode)
Haley Dunphy (Haley Marshall)
Luke Dunphy
Mitchell Pritchett
Cameron Tucker
Lilly-Tucker Pritchett
Dylan Marshall
Guest Starring
Jon Daly as Doug
Tom Fitzpatrick as Jim
Collin Lee Turner as Snake Dude
Marcy Goldman as Meemaw
Hilda Boulware as Mimsy
Oliver Strang as Boy
Cinai Léonard as Girl 1
Annabelle Resnick as Girl 2
Mike Ostroski as Mower
Sarah Khasrovi as Mother
Samuel Davis as Father
Trivia
The Jay/Manny plot was originally for episode Snapped
Easter is finally celebrated in this episode.
Continuity
Cultural references
Cam mentions Elton John
Mitch mimics Dirty Dancing
Gloria speaks in trucker slang ("a smokey set up a bear trap and I had to back off the hammer" = "a police officer set up a speed trap and I had to slow down")
Reviews
The A.V. Club gave it a "B": Cam and Mitchell are anchoring this final season. Their journey, from considering a move back to Cam's hometown to adopting a new baby, has provided this final season with its only moving arc. [...] It's touching and sickly sweet, and affirms that while the rest of the show seems to be stuck with meaningless storylines, Cam and Mitchell are getting an appropriate send-off.
References
Gallery
Community content is available under
CC-BY-SA
unless otherwise noted.