Modern Family was renewed for an 8th Season, which was announced on the March 3rd, 2016. It is unknown about the episodes and the cast or the storylines. Jesse Tyler Ferguson, who plays Mitchell, posted an Instagram photo [1] stating that there will be a Season 8.
Cast and Characters
Main Cast
Recurring Cast
Please assign Characters here when they have been in 3 or more episodes.
Guest Cast
Please assign Characters here when they have been in less than 3 episodes.
Notes
An 8th Season was announced on March 3rd, 2016. [5]
ABC has confirmed a release date for Season 8 of Modern Family, September 21, 2016.
Jesse Tyler Ferguson, the actor who plays Mitchell, posted an Instagram photo stating that there will be a Season 8. [6]
Phil may start to take a stand as he felt like Claire does too much in the last few episodes of Season 7. [7]
Steven Levitan, co-creator of the show stated "I think my personal goal at this point would be 10 seasons. I don't know if it's attainable or not. I think we'll have to look at it every year, and if we feel like we're just running out of things to say then it will be time to make that tough call." when asked about multiple Seasons. [8]
At the 2016 TCA press tour, Steven Levitan has announced two new characters will be appearing in season 8: Nathan Fillion in multiple episodes as Rainer Shine and Martin Short in the second episode as Merv Schechter. [3]
It was announced that Kelsey Grammer will be in a future episode in January as a character name Keifth, Cam's former boyfriend.[9]
The Premiere episode is entitled "A Tale of Three Cities". [10]
Robert Costanzo was cast as Earl Chambers for Halloween 4: The Revenge of Rod Skyhook and future episodes after the death of Jon Polito, who died of multiple myeloma on September 1, 2016.
We see Dylan Marshall Reid Ewing for a quick scene where he stops by the Dunphy house to introduce his new family, his new wife and step children, to the Dunphys. Haley is seen anxious about her life decisions after seeing Dylan reaching a steady place in his life.
Episodes
Image
Title
Writers
Director
Airdate
No. in Season
No. in Series

"A Tale of Three Cities"
Elaine Ko [11]
Chris Koch [11]
September 21, 2016 [11]
01
167
After recent trips take the Dunphys to New York; the Tucker-Pritchetts to the Midwest; and Jay and his clan to Juarez, Mexico; the entire family reunites for Father's Day. [11]

"Blindsided"
Christy Stratton & Danny Zuker [12]
Jim Hensz
*October 5, 2016 [12]
02 [13]
168
The Dunphys and Pritchett's are going head-to-head when Luke decides his best chance at getting into college is running for senior class president against Manny; Phil insists on introducing Haley to marketing guru Merv Schechter. [12]

"A Stereotypical Day"
Vali Chandrasekaran [14]
Ryan Case [14]
*September 28, 2016[14]
03 [13]
169
Jay wants to make a good impression on a family moving in across the street; Manny tries to attract a radical thinker; the Pritchett family uses Alex's bout of mono to their advantage; Cam and Mitchell try to teach Lily a message of acceptance.

"Weathering Heights"
Paul Corrigan & Brad Walsh [15]
Gail Mancuso [15]
October 12, 2016 [15]
04
170
Phil is ecstatic when he's invited to appear in a news segment and gets to meet his "weatherman" hero: Rainer Shine and introduced him to Haley; Jay infuses a little grit into Manny's video interview for college; Lily takes matters into her own hands when she sees Dwight seems to be prefered by Mitch and Cam. Gloria takes Joe to an ortophonist and Claire and Luke form an alliance against Alex. [15]

"Grab It"
Jeffrey Richman
Beth McCarthy-Miller
November 9, 2016
05
171
Phil's desire to join Jay's club compromises his father in law serenity. Gloria wants to have a nice evening, but Manny and Joe ruin her plans. Claire believes that Alex sees her as a perfect mother exemple and Mitchell discovers Cam's new piece of theater.

"Halloween 4: The Revenge of Rod Skyhook"
Stephen Lloyd
Chris Koch [16]
October 26, 2016 [16]
06
172
Luke's Halloween party is going wrong, but family helps; Cam faces off with his Halloween nemesis, his family try to help; Jay finds out Manny is going to a party at the home of an old enemy, he enlists him to deliver a trick he will never forget. [16]

"Sarge & Pea"
Abraham Higginbotham
James Bagdonas
January 11, 2017
07
173
A parent prevents Cam to see Lily's beautiful recital and Alex and Haley help him to take his revenge. Jay, Mitch and Claire attend a wedding where they meet Dede again. Phil and Gloria take Manny and Luke to college tours.

"Thanksgiving Jamboree"
Jon Pollack & Chuck Tatham

Steve Levitan

November 16, 2016
08
174
The family gathers for Thanksgiving at Mitch and Cam where Jerry is among the guests and unexpected romances show up.

"The Alliance"
Andy Gordon & Ryan Walls
James Bagdonas
November 30, 2016
09
175
Haley is forced to chaperone Rainer's daughter. Luke helps Jay at his club with his petition. Phil, Cam and Gloria form a secret alliance.

Snow Ball"
Christy Stratton & Stephen Lloyd
Beth McCarthy-Miller
December 14, 2017
10
176
Luke and Manny are in charge to organize the winter dance. Cam learns self defense. Mitch helps a bully. Phil wants to spend time with Jay and Claire and Gloria play matchmakers.

Ringmaster Keifth"
Vali Chandrasekaran
Jim Hensz
January 4, 2017
11
177
Cam's ex, a former ringmaster returns in his life. Jay and Gloria search tutors for Joe. Phil learns his father will remarry.

"Do It Yourself"
Paul Corrigan & Brad Walsh
Jeffrey Walker
February 15, 2017
12
178
Phil convinces Jay to invest in a property but Jay has to deal with a sportcoach and Luke helps Phil to fix the dryer. Claire and Haley go to a culinary show. Mitch and Cam teach Lily hard work.

"Basketball"
Jim Hensz
Elaine Ko
March 8, 2017
13
179
Phil attempts to redeem himself in a basket charity game. Claire has a secret to tell to Jay who fears Joe won't respect him. Gloria meets again Donna Duncan.

"Heavy is the Head"
Danny Zuker
Ken Witthingham
February 22, 2017
14
180
Phil and Jay have to rethink their project. Alex's loyalty is compromised. Gloria makes a schoking discovery while organizing Claire's surprise party. Also, Manny helps Haley with a game of throne Convention and Mitch tries to convince Cam to have an MRI.

"Do You Believe in Magic"
Jon Pollack
Gail Mancuso
February 8, 2017
15
181
Alex discovers she has a secret admirer. Phil calls a magician in order to help him in his couple. Jay favorizes Joe and Mitch and Cam teach Haley and Sal how to stand up.

"Finding Fizbo"
Abraham Higginbotham & Chuck Tatham
James Bagdonas
March 1, 2017
16
182
Cam discovers that someone stole his Fizbo costume. Phil meets his future step-brother at Frank's bachelor party. Manny enlists the women's help in order to read his play.
"Pig Moon Rising"
Paul Corrigan & Brad Walsh
Chris Koch
March 15, 2017
17
183
Mitch is afraid to tell Cam the truth after he spread his pig's ashes.

"Five Minutes"
Elaine Ko
Gail Mancuso
March 29, 2017
18
184
So much can happen to the Pritchett-Dunphy-Tucker clan in five minutes! Mitch and Cam have five minutes to catch a new flight while fighting the effects of sleeping pills they took prematurely. Then at Rainer's birthday dinner, Haley and Rainer are forced to reevaluate their entire relationship in the five minutes before the birthday cake arrives. Meanwhile, Phil and Claire pay a surprise visit to Alex and are given a five-minute surprise introduction to her new boyfriend. Finally, with only five minutes to catch a movie, Manny has to find the perfect parking space and endure Jay and Gloria's backseat argument.

"Frank's Wedding"
Andy Gordon
Beth McCarthy-Miller
April 5, 2017
19
185
Frank Dunphy's Roaring 20s-themed wedding day is finally here, and to get into the spirit, Phil gets the Dunphy clan to show up in costume. Once Claire and the kids realize they are the only ones dressed-up, they feel it's time for a "funny" intervention with Phil. Meanwhile, Jay has mastered the art of saying no, but soon realizes that if you say no too many times, people stop asking; and Cam is in for a big surprise when he finally stops hiding behind Mitchell and stands up to his sister Pam.
"All Things Being Equal"
Christy Stratton & Ryan Walls
Michelle MacLaren
May 3, 2017
20
186
Gloria, Claire, Haley, Alex, Lily, Luke and Manny are equally committed to showing their support for gender equality and the women's movement in very different ways. Meanwhile, Jay and Phil are at odds on how their parking lot attendant, Joan (guest-star Niecy Nash), should be running their lot, and jealousy ensues when Pam prefers Mitchell's help over Cam's with her baby.

"Alone Time"
Abraham Higginbotham, Stephen Lloyd & Danny Zuker
Jim Hensz
May 10, 2017
21
187
Everyone deserves a little alone time now and then, so when Mitch and Jay separately seek out a much-needed retreat from the family and end up at the same resort, it becomes clear just how "related" they really are. Meanwhile, Phil and Claire can't seem to really enjoy the empty-nester life, and Cam, not knowing what to do with himself while Mitch is away, drops in on Gloria's to lend a hand.
"The Graduates"
Jon Pollack, Jeffrey Richman & Chuck Tatham
Steven Levitan
May 17, 2017
22
188
Manny's father, Javier, shows up for his graduation and takes him out on a wild night of celebration, and then Jay steps in to pick-up the pieces. Meanwhile, the Pritchett-Dunphy-Tucker clan is getting ready for Luke and Manny's big day and dealing with the emotions that come with seeing your kids grow up and leave the nest.
Character Appearances
✓ = Appears | X = Absent.
Characters

Episode (This Season)
1
2
3
4
5
6
7
8
9
10
11
12
13
14
15
16
17
18
19
20
21
22
Total
Jay Pritchett
✓
✓
✓
✓
✓
✓
✓
✓
✓
✓
✓
✓
✓
✓
✓
✓
✓
✓
✓
✓
✓
✓
22
Gloria Pritchett
✓
✓
✓
✓
✓
✓
✓
✓
✓
✓
✓
✓
✓
✓
✓
✓
✓
✓
✓
✓
✓
✓
22
Manny Delgado
✓
✓
✓
✓
✓
✓
✓
✓
✓
✓
✓
✓
✓
✓
✓
✓
✓
✓
✓
✓
✓
✓
22
Joe Pritchett
✓
✓
✗
✓
✓
✓
✓
✓
X
✓
X
✓
✓
X
X
✓
✓
X
✓
X
✓
✓
15
Phil Dunphy
✓
✓
✓
✓
✓
✓
✓
✓
✓
✓
✓
✓
✓
✓
✓
✓
✓
✓
✓
✓
✓
✓
22
Claire Dunphy
✓
✓
✓
✓
✓
✓
✓
✓
✓
✓
✓
✓
✓
✓
✓
✓
✓
✓
✓
✓
✓
✓
22
Haley Dunphy
✓
✓
✓
✓
✓
✓
✓
✓
X
✓
✓
✓
✓
✓
✓
✓
✓
✓
✓
✓
✓
✓
21
Alex Dunphy
✓
✓
✓
✓
✓
✓
✓
✓
✓
X
✓
✓
X
✓
✓
✓
X
✓
✓
✓
✓
✓
19
Luke Dunphy
✓
✓
✓
✓
✓
✓
✓
✓
✓
X
✓
X
✓
X
X
✓
✓
X
✓
✓
✓
✓
17
Mitchell Pritchett
✓
✓
✓
✓
✓
✓
✓
✓
✓
✓
✓
✓
✓
✓
✓
✓
✓
✓
✓
✓
✓
✓
22
Cameron Tucker
✓
✓
✓
✓
✓
✓
✓
✓
✓
✓
✓
✓
✓
✓
✓
✓
✓
✓
✓
✓
✓
✓
22
Lily Tucker-Pritchett
✓
✓
✓
✓
✓
X
✓
X
X
✓
✓
✓
✓
✓
✓
X
✓
X
✓
✓
✓
✓
17
Viewing Rates
The viewing rates are the amount of people viewing the episodes (U.S.A).
| No. | Episode | Viewing Rate |
| --- | --- | --- |
| 01 | "A Tale of Three Cities" | 8.24 million [17] |
| 02 | "A Stereotypical Day" | 7.41 million [18] |
| 03 | "Blindsided" | 6.97 million [19] |
| 04 | "Weathering Heights" | 7.50 million [20] |
| 05 | "Grab It" | TBA |
| 06 | "Halloween 4: The Revenge of Rod Skyhook" | 7.38 million |
Character Storylines
The Pritchett Family
Jay
Jay does not want to give the new family moving in across the street the wrong impression and goes out of his way to make sure they know he is the best kind of neighbor. He is convinced by Phil to invest in a property which forces them to work together. Jay relationship with Joe is developed.
Gloria
Gloria prepares for Manny to leave home and go to college.
Manny
Manny decides that the best way to an attractive and radical-thinking teenage girl's heart is through his actions. This season see him defeated in class president's elections and preparing for graduation.
Joe
Joe starts picking up a lot of bad habits, including stealing, swearing and giving his mother's lingerie to his teacher and girlfriend. He also gets helped by a coach sport named Gary.
The Dunphy Family
Phil
This season sees him facing major changes in his life as Luke finishes high school, Alex gets a job and Haley wants to create her own company. Also, Phil learns that Frank will get remarried.
Claire
She continues to manage Jay's former company and stresses out over Luke possibly not getting into college.
Haley
This season sees her fired and determined to create her own business. She also breaks up with Andy and dates Rainer Shine, a meteorologist.
Alex
She gets a job in a cafe as a barista after being forced to take a break from college after being sick with Mono. She also has several boyfriends, including Dwight, Cameron's protege and Ben, Claire's sidekick.
Luke
He manages to become the new student body president and gets a job at Jay's club where he makes quite a bit of money. He also struggles with trying to get into college.
The Tucker-Pritchett Family
Mitchell
He throws Fizbo's clothes away and the idea that he will create his own office is totally forgotten.
Cameron
This season sees him developing a new friendship with his protege Dwight whom he invites to live with his family.
Lily
In the end of the season Lily's parents discover that she is doing well enough in school to be offered to skip a grade and that she is popular with her schoolmates.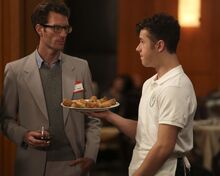 Gallery
References