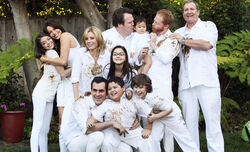 Will you be watching the Emmy's this Sunday? If you've been on the fence, you should know that Modern Family is the most nominated comedy series, with 17 nominations! Also leading the pack are Mad Men with 19 nominations; fellow HBO series Boardwalk Empire with 18 nominations; Game of Thrones with 13; 30 Rock also with 13; and Glee with 12 + a host in Jane Lynch!
Check out which categories Modern Family was nominated for!
Best Comedy Series
Modern Family
30 Rock
Glee
The Office
Parks and Recreation
Best Supporting Comedy Actor
Best Supporting Comedy Actress
You can see the full list at the official Emmy website!